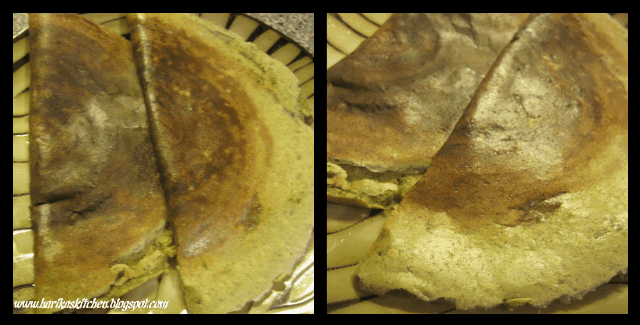 This dosa is made of whole moong dal by soaking them whole night or maximum 9 to 10 hours so it soaks well. This is one of the break fast i used to hate in my child hood but now i am simple the fan of it.This is my husband's favourite breakfast so i used to make it frequently and i used to eat forcefully but now i used to love eating that...This moong dal dosa is made by making a fine paste of soaked moong dal,ginger,green chillis ,zeera and salt.Now cut the onions finely and fry them gy adding a tbsp of oil , zeera and ginger pieces chopped into tiny pieces.This is used for sprinkling on the dosa.Now we are preparing the dosa.Take a dosa pan add little dosa mixture on apan spread it in the circular motion in a thin layer then add tbsp of oil and sprinkle the onions on the dosa and remove it when it turns into golden colour.Now its ready to eat.Serve it with coconut chutney its really good.
Ingredients:-
Moong dal-1 cup whole (or) split moong
Fresh Ginger-1 inch piece peeled
Green chillis-2
Zeera- 1 tbsp
Salt to taste
For spreading on dosa:-
Ginger-1/2 inch finely chopped for spreading on dosa
Onion-1 finely chopped
Zeera-1 tbsp
Oil required
Fry all these in a pan by adding 1 tbsp of oil.
Procedure:-
1)Make a fine paste of soaked moongdal,ginger,zeera and green chilli and make afine paste then add salt required and mix it properly.
2)Now take a dosa pan spread the paste in circular motion.Then spread the masala on the dosa which we made earlier .

Ingredients:-
Coconut shredded (or) fresh coconut pieces-1 cup
Green chillis-2
Chana dal-1/2 cup
Peanuts-1/4 cup
Coriander leaves accordinly
Tamarind piece-1/2 inch
Mustard seeds-1/2 tbsp
Zeera-1 /2 tbsp
Curry leaves-5 count
Red chilli pieces- 4 to 5
Salt to taste
Oil required
Procedure:-
1)Fry the chana dal until golden colour.Then fry the tamarind piece and coriander leaves.Then the peanuts.Peal the peanuts when they cool.
2)Now make a fine paste to the ingredients coconut shredded, salt , green chillis ,coriander leaves, peanuts and tamarind.
3)Now take a pan add tbsp of oil add zeera ,red chilli ,curry leaves, mustard seeds.And add this in to the chutney and mix it properly.Serve this with dosa.