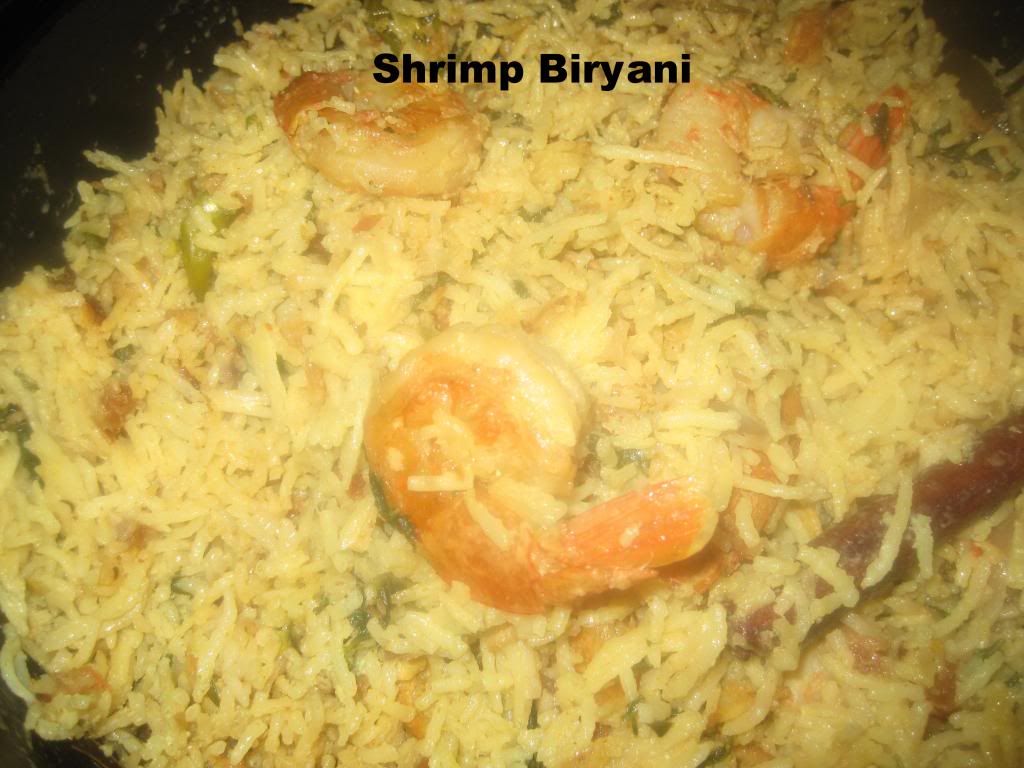 Ingredients:
-
Shrimp - 1 lb
coconut milk - 2 cups
water - 2 cups
Basmati rice - 2 cups (soak it for 30 - 60 min)
Green chili - 3 slit
curry leaves - 6 count
Yogurt
Whole Garam masala -Cardamoms, cloves, cinnamon , bay leaf, star anise
onion - 1 big sliced
Crispy fried onions - 1 cup
Cilantro
oil/ghee
Tomato sliced - 1 medium
salt to taste
For marination:-
Shrimp
Salt
chili powder- 1/2 tbsp
Ginger garlic paste- 1 tbsp
Turmeric-1/4 tbsp
Marinate all these for at least 20-30 min
Procedure:-
Take a wok add oil n little ghee and heat it then add whole garam masala and then onions and fry until golden color. Now add the marinated shrimp and cook until it is cooked then add yogurt and mix well. Reduce heat while adding yogurt. Then add the coconut milk and water and mix well add salt accordingly water must be salty. Now wen it starts boiling add soaked basmati rice and mix well n close the lid and cook in medium flame wen the rice is half cooked add the crispy onions ,cilantro n tomato pieces on top n sim the flame and cook until the rice is cooked properly. Now mix carefully all the rice n serve hot with curd chutney/raita.
Don't mix the biryani too much the rice will break. And byu soaking the rice it cooks soft n the rice looks fluffy n grain expands.