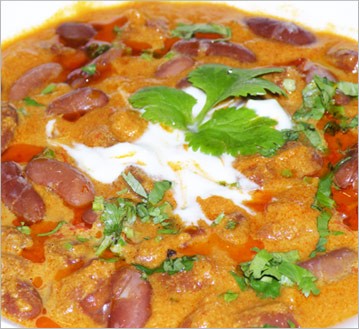 :
Ingredients:-
Rajma beans-1 cup(soaked and boiled)
Ginger garlic paste-1 tbsp
Tomatoes-2 chopped (or) paste
Dhaniya powder-1 tbsp
Zeera powder-1 tbsp
Turmeric powder-1/4 tbsp
Salt to taste
Butter-1 tbsp
Oil
Chilli powder-1/2 tbsp
Garam masala powder-1/4 tbsp
Coriander leaves finely chopped
Lemon-1
Onion finely chopped
*First soak the beans for 8 hours or whole night.Then boil them in
a pressure cooker by adding water until 4 vessels.
*After that separate the water and beans and keep aside.
*Store the boiled water for cooking.
*Now take a frying pan add 2 tbsp of oil then add onions and
ginger garlic paste and fry properly until
golden colour.Now add salt , garam masala, chilli powder, dhaniya
powder, zeera powder, and turmeric powder and mix well.
*Then add little boiled water in to the pan which we separated from the beans and boil the masala
properly. Now add the tomatoes and fry till the tomatoes becomes paste.
*Then add the beans into it and fry for 2 more min.Then add cup of the left water
and boil it properly until it is cooked.
*Now add the butter in the climax.
*Garnish with coriander and lemon and serve hot with chapathi (or) rice.