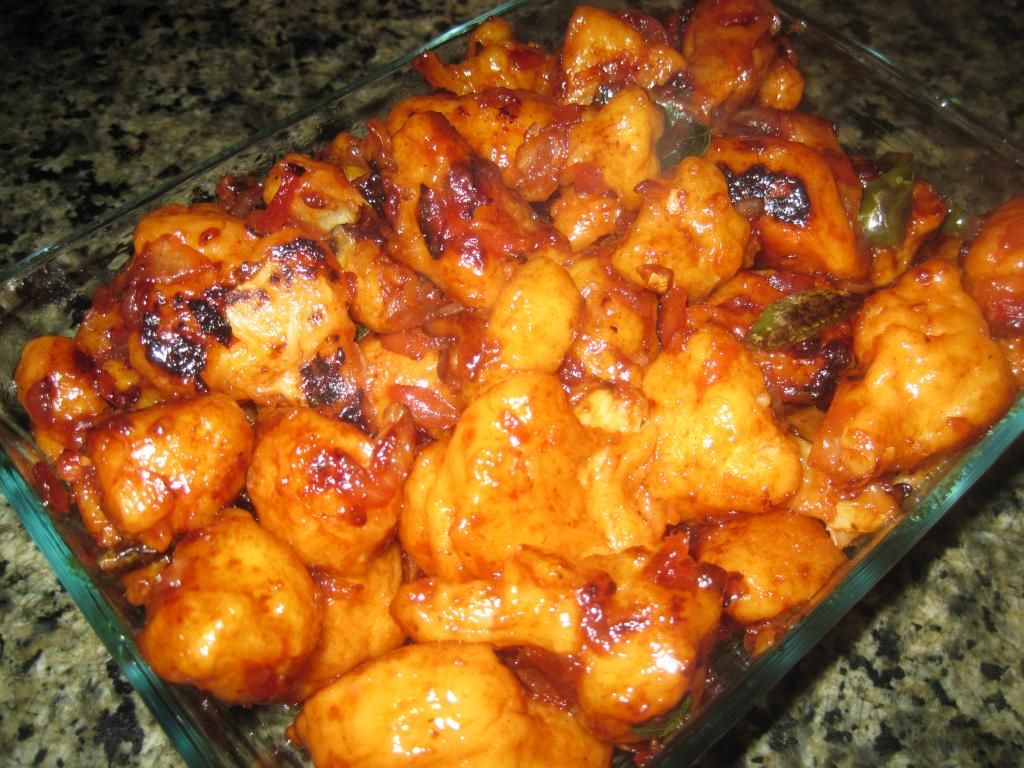 Ingredients:
-
Cauliflower - 1 whole (cut into desired size)
Onion - 1 chopped
Garlic - 3-4 finely chopped
Ginger - 1 inch peeled n finely chopped
Green chili - 3 slit
Curry leaves - few
Soya sauce - 2 tbsp
Chili sauce - 3 tbsp
Tomato ketchup - 3 tbsp
Vineger - 2 tbsp
Food color - a pinch mixed in warm milk
Corn flour mixture - 1 1/2 tbsp mixed in water
china salt - 1/2 tbsp
Cilantro for garnishing
oil for deep fry
Salt to taste
For batter -
Maida(all purpose flour) - 1 cup
Corn flour - 3 tbsp
Water as needed
Chili powder - 1/2 tbsp
Salt to taste
Ginger garlic paste - 1/2 tbsp
Procedure:-
1-First take a bowl add water, salt n turmeric and bring to boil . then add the cut n cleaned cauliflower florets to it and cover it and let it cook for 5 - 6 min. Then remove them from hot water not to over cook and keep side.
2-Then take a bowl add the batter ingredients all together and give it a good mix and then add little by little water and mix it until the batter is in liquid form. It should not be more thin or more thick.
3-Now heat the oil for deep fry and dip the cauliflower boiled florets into the batter and fry them until golden brown.
4-Now simultaneously take another pan add little oil and fry the ginger garlic chopped and then green chilis then onions and fry until golden color.
5-Then add the curry leaves then all the rest sauces chili sauce, vineger, salt, china salt , ketchup, soya sauce, and finally food color. And give a good mix.
6-Now add the fried pieces of gobi and mix well check the levels of spices and add if any thing needed.
7-then add the corn flour mixture and mix well and cook for a min or so and finally add cilantro and serve.