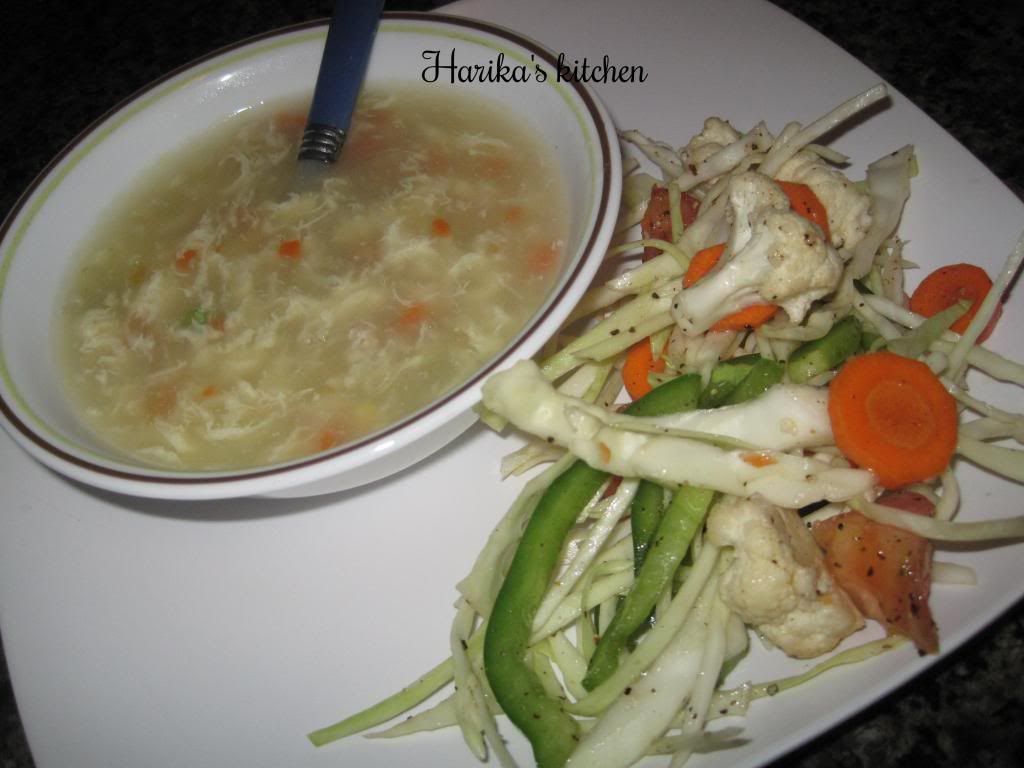 Ingredients for soup:-
Chicken Broth - 2 cups
Bone less Chicken - 1/2 cup cooked n cut into pieces
Carrot - 1/4 cup chopped finely
Green peas - 1/4 cup
Sweet corn - 1/4 cup
Corn flour - 2 tbsp
Egg - 1tbsp
Pepper - 5 count
Cloves - 2
Cardamoms - 2
Salt to taste
Pepper - 1/4 tbsp
Procedure:
-
1- Take a wok add oil and add cloves, cardamom, pepper and fry for a min or so. Then add carrot, green peas, sweet corn and mix well and then cook for a min and so.
2-Now add chicken and cook for 1 more min.
3-Now add the chicken broth and mix well add salt n pepper mix well and boil for a min.
4-Now take a egg and whisk it and add to the soup by mixing it simultaneously.
5-Finally add 2 tbsp of corn flour in water and mix it in the soup to bring the thickness in soup.
Ingredients for salad:-
Cabbage - 1/2 cup chopped
Carrot - 1/2 cup chopped
Cucumber - 1/2 cup chopped
Tomato - 1/2 cup chopped
Cauliflower - 1/2 cup cut
Capsicum - 1/2 cup sliced
Lettuce - 1/2 cup chopped
Olive oil - 2 tbsp
salt to taste
Pepper to taste
lemon 1/2 slice
Procedure:-
Mix all of the above ingredients in a bowl and mix well and serve it. Keep it for a min or so after mixing. so the ingredients combine well each other.